Longboard Bar & Grill opened its doors in Townsville, North Queensland on Sunday March the 4th 2012. It is a 250 seat bar and grill that is beach, beer and surf themed. Longboard sits on the Headland on the Strand facing Magnetic Island and Cleveland Bay. Ultimately, it is where the beer and the bar come together to create the perfect restaurant.
Longboard's two owners, Chris and Anthony, have over 40 years of combined experience in the hospitality industry. Chris, originally from the United States, opened Longboard with the goal to allow Townsville to enjoy the beautiful Strand location alongside great food and drinks. The name Longboard was conceived by ex-ironman and good friend of Chris, Jonathon Crowe and his surfing mates. Both owners are well travelled and bring a multitude of experiences to Longboard which are reflected through the atmosphere, food and drinks.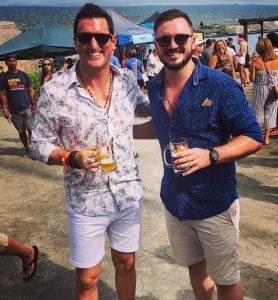 The cuisine is based upon American and Mexican influenced dishes with some Australian fusion. The menu is extensive and offers something for everyone. The lunch and dinner menu consists of share plates and a variety of burgers, baguettes, wraps and salads. LB's famous Crispy Buffalo Wrap is one that the locals demand while patrons from all over cannot get enough of Frank's Original Buffalo Wings which are one of Longboard's many signatures. After trying Longboard's wings you will soon realise you have developed a craving that you never had before. The all day bar menu offers dishes for anyone stopping by at any time for a light snack and a cold drink. This also includes the Baja Fish tacos that will transport you straight over to Cabo San Lucas. There is also low gluten, vegan and vegetarian dishes available.
Longboard offers a range of Australian and International beers as well as a large selection of craft beer on tap. The wine list covers all the popular varieties which offers value for money wines as well as a few top of the range vinos for the ones who appreciate the finer things in life. With such an amazing location it is no wonder that cocktails are always on demand and Longboard has a great range of spirits to concoct some extravagant cocktails. You will always be able to pick out a classic mojito, margarita or even a top shelf Longboard tequila being escorted through the crowd.
Longboard boasts one of Australia's largest ranges of additive free Tequila. The owner's have travelled to the state of Jalisco on many occasions tasting tequila's from distilleries such as Fortelaza, Cascahuin, Don Fulano and many others. You cannot miss them behind the bar so be sure to check out our Tequila Bible!